R18+ Fate/Grand Order - Mashu Shielder Dangerous Beast Doujin - Sleeves Akitahika FGO
Description
This is a chance to get hold of the hard-to-find doujin card sleeve exclusive from Sunshine Creation, featuring our best kouhai Mashu in her most famous Mystic Code, Dangerous Beast. Illustrated by popular artist Hika (Hikara), Shielder is showing off her best assets in the Halloween outfit that started its own meme on the Internet.
About this Doujin Product:
Dangerous Beast - Mashu Fate Grand Order Sleeves
This is a follow-on release of the Mashu Dangerous Beast series of doujin accessories modeled after the Special Dangerous Beast Craft essence dropped during the 2016 Halloween event in Fate Grand Order.
Illustrator: Hika (Hikara)
Dangerous Beast Craft Essence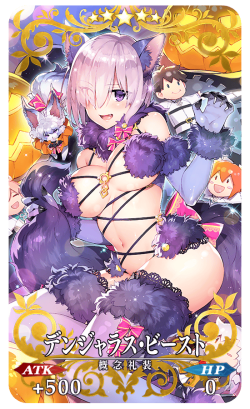 This is the Craft Essence item in the game that inspired our doujin item.
If you wonder about the lore for this Craft Essence...
It is said that "on the evening of Halloween, even the interior of Cheldea would witness the rise of werewolves.
Dangerous...
Oh-ho, this is what one would call "Dangerous Beast..."
"By the way, Monsieur Fou, what is your feeling to this?"
"Fou. Fou, foufou. Fou! Foufoufou..."
(If you have to ask, then I'd answer that her belly is great. Emm. Belly. There is a bit more lipid than Mashu would normally allow, isn't it? You should all wholeheartedly praise my brilliant strategy of not hindering her from eating more dumplings. As to the destructive power of her Oppai... Well, what could be put to word now, Em? I have profoundly understood that power, but, still, I am so shocked that my fur changed its colour. So, that's why... Mashu looks much thinner when she's dressed... It's dangerous. It is Dangerous. Although the whole tinge deviates slightly from my own personal preferences, but this shade of purple has just the attraction that fits the Halloween theme. Noble, yet lustful, yet innocent... This is enough to create a whole new class of servant just for her, don't you think?)
"Em... Although I vaguely know what you are talking about, I can not understand your point at all!"
Specification
Size: Standard size 
Count: 50 Sleeves
*This item is intended for mature audience